~~~~~~ The Man in Black and Shakyra ~~~~~~
12 augustus 2021 een gitzwarte dag op de Dorushoeve
Onze lieve "Shakyra" 20 jaar bij ons vanaf veulentje en de eerste merrie waar we onze fokkerij mee begonnen. en onze lieve hengst "The Man in Black " pas 6 jaar oud zijn overleden door een tragisch incident.
Het was een prachtig koppel.
Shakyra gekocht bij Wim en Hetty( tinkerhorseskanters), Wim zei vol trots dat hij een merrie veulen, iets speciaals had, die niet te koop was. We gingen kijken in de weide en uiteindelijk ging ze na een fikse onderhandeling mee naar ons. Ze was hier de rots in de branding en de leading lady in de weide, wij zouden samen oud worden. Helaas is dit anders gelopen.
"The Man in Black" na een zoektocht van jaren naar een geschikte hengst kwamen we uit bij deze knappe jongeman , van een lelijk eendje naar een prachtige zwaan en je werd nog steeds alleen maar mooier. De pubertijd was achter de rug en je luisterde perfect. Je was een rustige lieve jongen die ook nog eens super paste bij onze merries en bij ons. Helaas door covid 19 maar 1 keer naar de keuring geweest, waar je wel meteen hoge ogen gooide met een eerste premie. Wat waren we blij en trots met jou.
We gaan ze nooit vergeten!!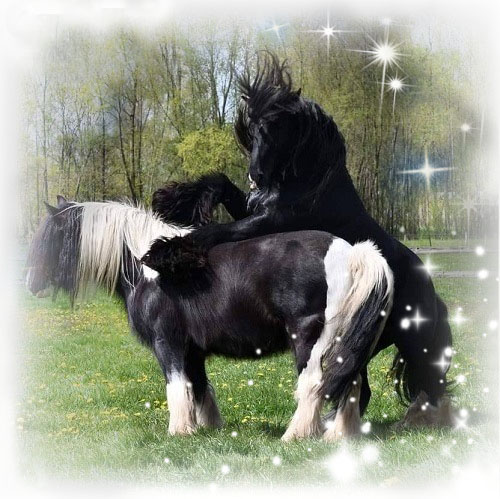 August 12,2021 a black day at our farm.
Shakyra bought from Wim and Hetty(tinkerhorseskanters)
Wim proudly said that he had a very special foal,although not for sale.We went to have a look in the meadow and after a tough negotiation she came to live with us. She was the rock and the leading lady in the meadow over here for almost 20 years . We would grow old together.
Unfortunately this turned out differently.
"The Man in Black"after years of searching for a suitable stallion,we came across this handsome young man, he grew from an ugly duck to a beautifull swan and still every year became more beautifull.You were a quiet sweet boy who also fitted our mares very well. Unfortunately because of covid 19 only been 1 time to the stallion inspection,where you immediately threw high eyes with a first premium.
We were so happy and proud of you.
~~~~~~ run free ~~~~~~
We will never forget them.